The rift is bordered by cliffs on either side, separated by about a half-mile gap, about 1,000 feet deep.  It is easy to see how animals and culture could have developed differently on each side with no real access to the other.  It occurred to me that the beginnings of the split between our branch becoming human and another branch remaining something else was at a place like this, where one protohuman creature, a bit different from the rest but not yet knowing how, looked over the edge and felt the pull to go over there just to see what's on the other side... not for food or a mate, but just because it wanted to know. That one leads to us.
            From there we followed Darryl down through the canyon roads to Burke's Luck Potholes— not a monument to bad paving, as we Americans might think, but a park encompassing a wonderful set of rock formations and waterfalls, dedicated to the memory of Tom Burke, a miner in the early gold rush days who staked a claim nearby and accurately predicted that large gold deposits would be found in the area.  They were, just not on his claim, hence the reference to his luck (or lack thereof).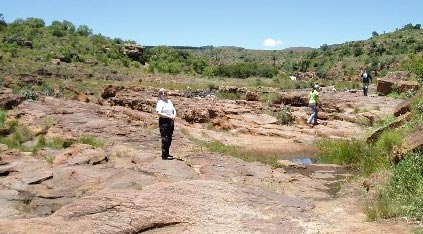 Brenda pauses to look back at man taking pictures of potholes
            The potholes are natural formations, nearly perfect circular holes in the rock, made when smaller rocks get caught in eddy currents and whirl around like grinders over thousands of years, unlike our modern potholes, which we are able to form in pavement in a single winter season. 
            We stopped at God's Window and hiked up to the overlook above the Window for a look down into the wide valley below.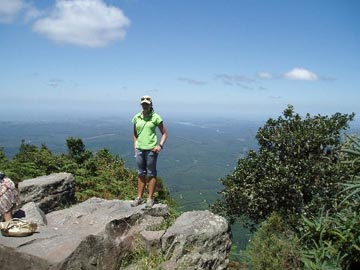 Remember, this is Tamzin's job.  Wanna trade?